Improving Procurement in the Justice System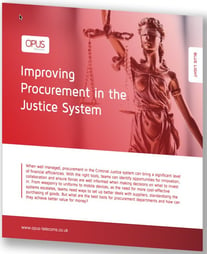 When well managed, procurement in the Criminal Justice system can bring a significant level of financial efficiencies. With the right tools, teams can identify opportunities for innovation, collaboration and ensure forces are well informed when making decisions on what to invest in. But what are the best tools for procurement departments and how can they achieve better value for money?
Download this FREE guide to discover the benefits of Unified Communications for Blue Light and Justice procurement departments, including:
Improving the visibility of sourcing activities

Increasing opportunities for suppliers to interact with the criminal justice system

Easily sharing evidence and ensuring fair and open competition

Creating a more diverse engaged and capable workforce




Fill in the short form and we will email you a link to the download.
Thank you.