If your plans for 2022 include hybrid working now is a good time to read our latest eBook on Hybrid Working Cyber Security - how to keep your business safe from anywhere, on any device.
After months of working from home during Covid-19 restrictions many businesses have implemented a hybrid work model whereby employees work both in the office and remotely.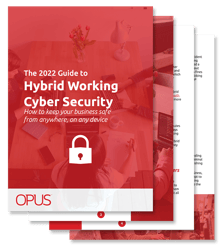 In this eBook we talk about:
The benefits of hybrid working
How remote working has affected security
The security challenges of hybrid working
Ransomware attacks, insider threats, phishing, email attacks
How businesses can stay secure whilst hybrid working
If you want to find out more about how to protect your business whilst hybrid working, or are interested in technology that can support the move to hybrid working, download our eBook for advice on how to plan your cyber security for 2022.
Fill in the form and download the eBook now.