Reshaping the Estate for Better Justice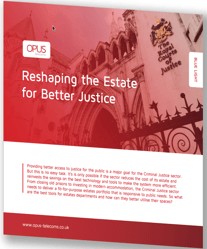 From closing old prisons to investing in modern accommodation, the Criminal Justice sector needs to deliver a fit-for-purpose estates portfolio that is responsive to public needs. So what are the best tools for estates departments and how can they better utilise their spaces?
Download this FREE guide to discover the benefits of Unified Communications for Blue Light and Justice estates departments, including:
Better access to justice

Accounting for the needs of users such as victims, witnesses and the vulnerable

Better asset management and increased productivity

Enabling mobile working across different geographical areas




Fill in the short form and we will email you a link to the download.
Thank you.