Communication, Engagement and the Patient Experience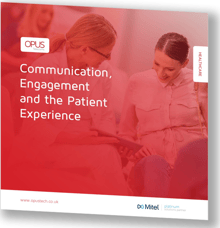 Communication, collaboration and the ability to share information in healthcare is playing a critical role in how patient care is delivered. In our increasingly mobile world, it's crucial to ensure staff and patients can be reached in any channel, from any device, seamlessly, efficiently and effectively.
Download this FREE guide to discover the benefits of Unified Communications for NHS Patient Experience departments, including:
Driving Digital Dialogues

Healthcare's Challenge To Connect

Unifying Communication in Healthcare

Reinventing The Patient Experience
Fill in the short form to download the guide now.
Thank you.