Harnessing Communications in HR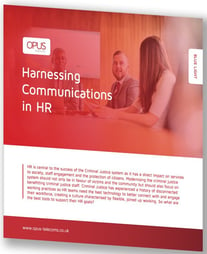 Modernising the criminal justice system should not only be in favour of victims and the community but should also focus on benefitting criminal justice staff. Criminal Justice has experienced a history of disconnected working practices so HR teams need the best technology to better connect with and engage their workforce, creating a culture characterised by flexible, joined up working. So what are the best tools to support their HR goals?
Download this FREE guide to discover the benefits of Unified Communications for Blue Light and Justice HR departments, including:
Reducing the need for travel as it enables effective mobile working

Easy sharing and accessing of candidate/employee/ citizen data

Delivery of information on demand across any device

Increased professionalism and proficiency of law and justice professionals
Fill in the short form and we will email you a link to the download.
Thank you.