Why should you be thinking about your phone system?
Learn the five ways a new phone system can help you get the most out of your business.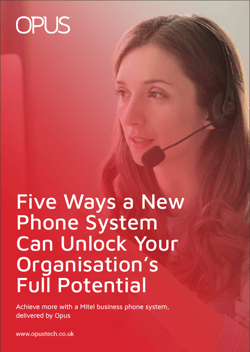 Your phone system shouldn't only be thought of when it fails. According to Zendesk customer experience reports, 66% of people say the telephone is still the best way to resolve issues.
In this guide you'll learn when to update your system, the five ways in which it can help your business reach its full potential, and how we at Opus can support you as we've supported many other businesses to fulfil their specific requirements.
Get your copy today to find out:
Signs that it's time to update your phone system
Making the most of your investment
How to customise to your organisation's requirements
Maximising mobility
and more...



Fill in the short form to download the guide now.